glass constructions / walls
We make glass constructions and walls for shops, restaurants, offices and individual customers. The frameless glass installing system, thanks to big size of glass panes and delicate fittings, creates independent rooms and at the same time does not close the space. Our walls can be installed in profiles, on clamping stripes, point clamping and rotules.
We offer glass walls and constructions of tempered glass with printed designs, which are made by printing with nanopigments, and then burnt-out in the kiln at 180 ° C. The printouts are very durable. There is no need to use additional protection, so we can get prints visible on both sides.You will find more information about our technology of the print and lamination in the section PRINT and LAMINATING, the access to the base of graphic themes for print are the in sections GRAPHICS and PATTERNS.
We also offer glass doors of the tempered laminated glass. It is proposal of a door with the greatest strength and safety class. Apart from the practical function the tempered laminated glass can also fulfill the decorative function. The possibility of putting printouts or decorative materials between panes allows to achieve remarkably interesting visual effects. More about the laminating of glass you can find in the section LAMINATING .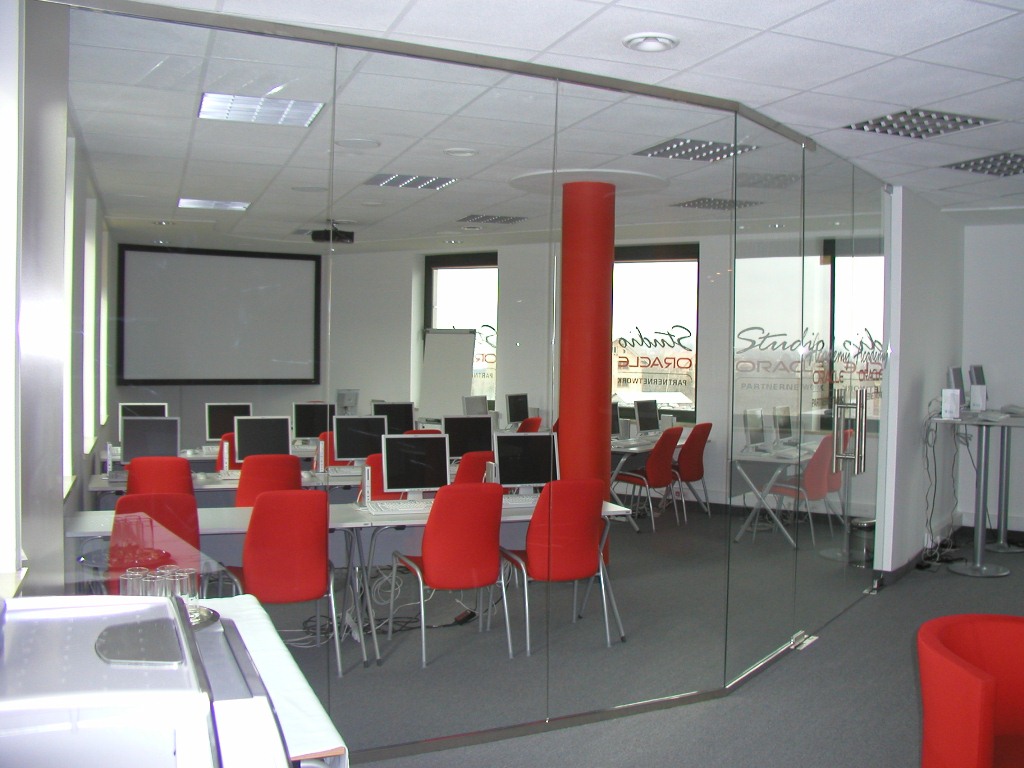 GLASS
We use toughened safe glass - thicknesses of 8, 10, 12 mm or toughened laminated safe glass with thicknesses from 9.6 mm to 13.6 mm
- clear float glass
- opti white glass (glass discolored - white)
- tinted glass (graphite, bronze, green, blue)
- satin glass, sandblasted
- ornamental glass
- laminated glass with EVA film or PVB matt, colorless, colored, with printing of decorative fabric.
SEE: TYPES OF GLASS
FITTINGS
Fittings, that we assemble are made of polished or grinded stainless steel. There are also 7 special colours avaliable, as well as any desired RAL color. We use fittings of the following manufacturers: Geze, Pauli + Sohn GmbH, Colcom / Minusco, CR Laurence G-FITTINGS P & M, Casma, Siso, GCC, GMT or their substitutes. To demanding customers are recommended proprietary solutions, especially stainless steel rods made ​​in our metal workshop.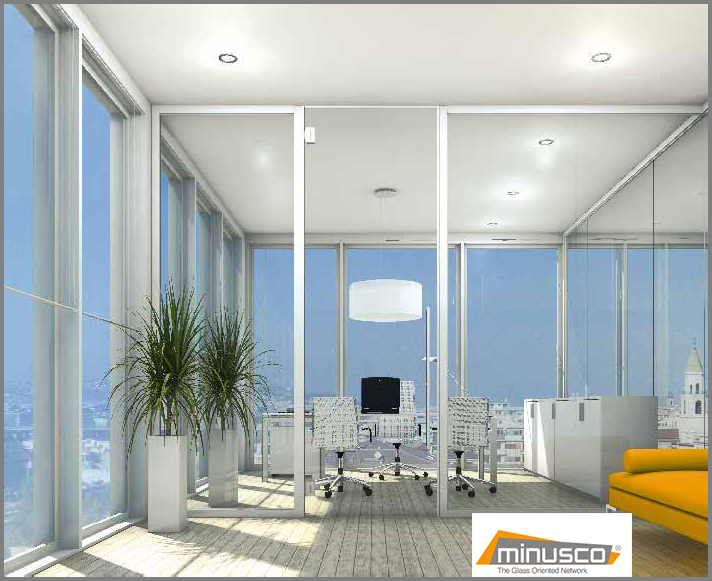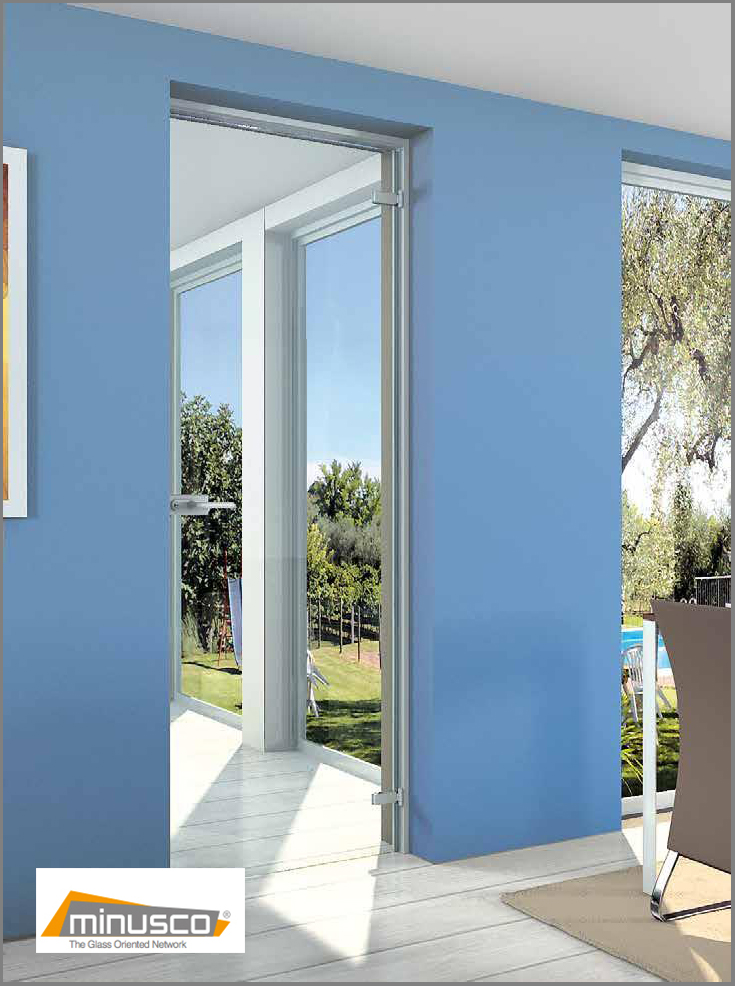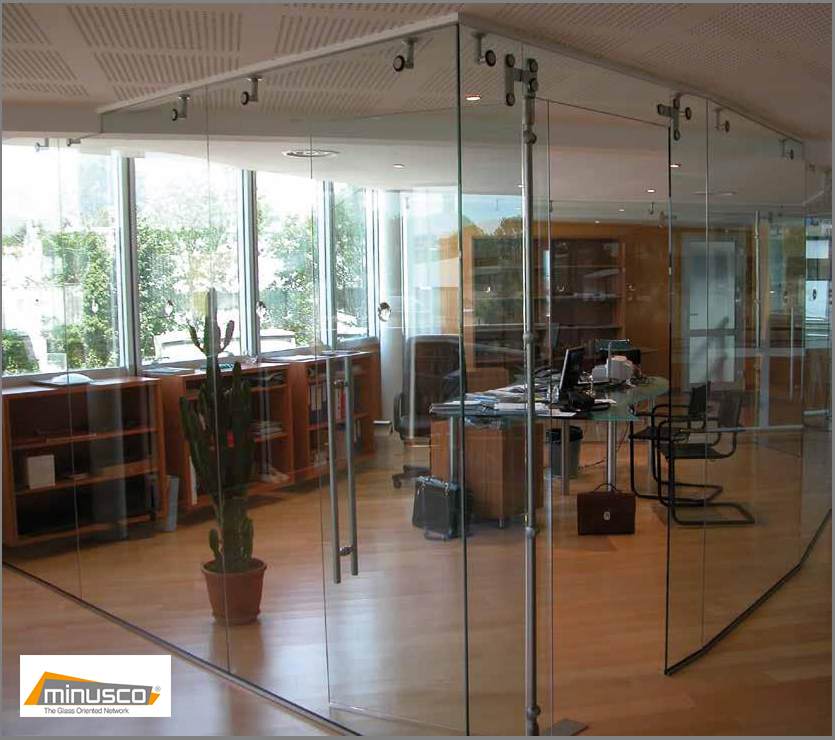 MINUSCO Espro1 MINUSCO Espro 2 MINUSCO Spacers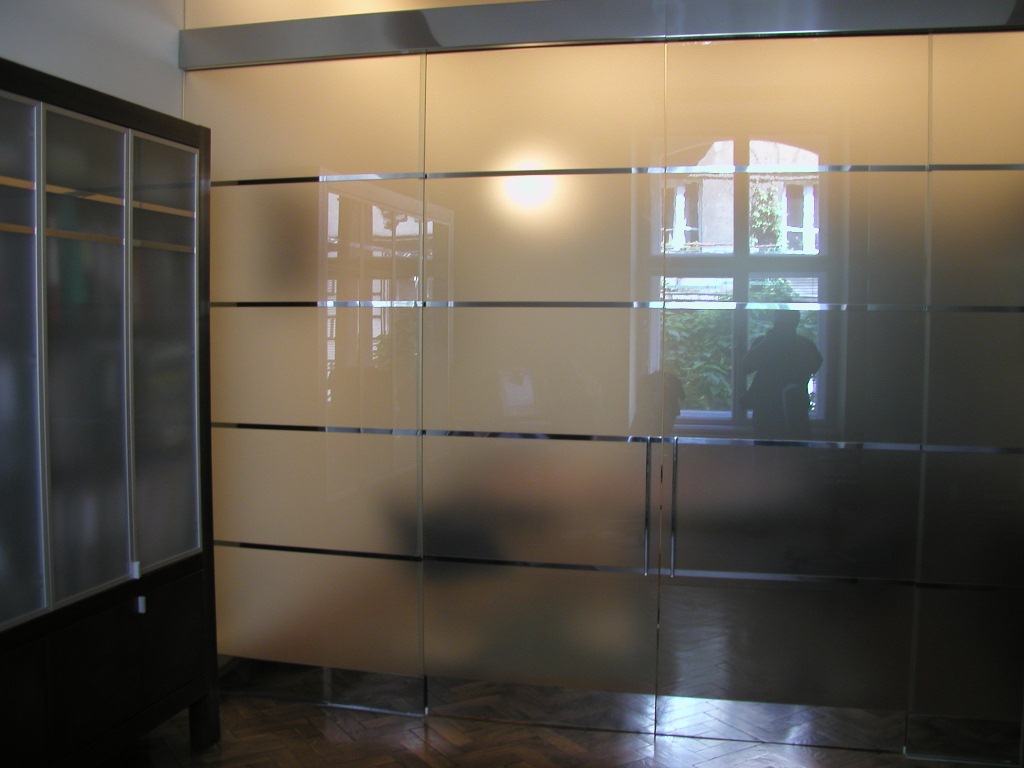 The advantages of glass constructions
-an impression of lightness and spaciousness in the shared rooms
-the possibility of dismantling and relocation of glass constructions in the other place
-any size tailored to individual needs
-possibility to use different types of door-swinging, sliding, single action, with self-closer, with the floor-lock, with electro-magnetic lock
-values - possibility of decorating glass panes (widgets, logos, business logos, information subtitles, etc.)
-modern design
Application
-sharing of large surface (Office buildings, clinics, dental, cosmetic)
-shop windows
-barrier: bathroom-bedroom, kitchen-living room, hall-living room
-smoking rooms
-screens
FOLDING WALLS
In addition to solid walls, our offer also includes folding walls. Panel construction and a special locking system allow for trouble-free and efficient folding of walls.
SEE ALSO:
laminating print patterns graphics
Do góry